When I bought my first house, I was really excited. I finally got a job, a loan, my wife and I were DINK's (Dual Income No Kids) and life was great. The excitement blinded me to how ugly our new master bathroom was. It was three different shades of pink tile with a window. Yeah, awesome.
I thought, you know what would be a really fun week-long project? You guessed it! A bathroom remodeling job. Hmm, turned out to be a little more work than a week and a little more money than originally thought. I wish I knew then what I know now. I want to save you from the same mistakes we made.
First,  let me share with you the only remaining piece of our ugly bathroom. We hang this in our house to remind us of where we came from.
Here's a list of resources you should read before you try to tackle your own bathroom remodeling project.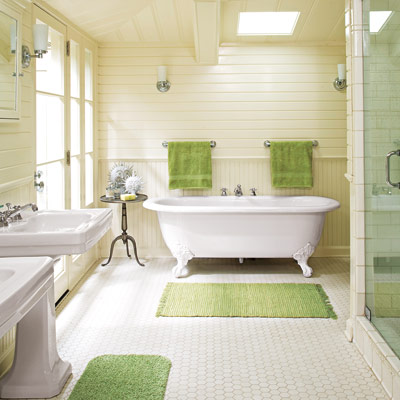 This Old House polled contractors, designers, and other professionals and give you their best tips. Read them here. 
I love how this bathroom is so clean looking and used green for an accent.