This is a sponsored post written by me on behalf of Blue Bunny Ice Cream for IZEA. All opinions are 100% mine.
Blue Bunny ® is one of my favorite ice cream brands to begin with. But with the addition of the Sweet Freedom products, now I can enjoy them more often.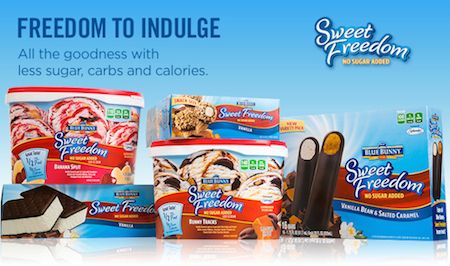 Dessert just got a little better! I really don't like giving my kids tons of sugar in the evening, well, any time really. But it isn't just the kids I get concerned about. I don't like excess sugar myself. It is important for me to stay healthy. I am really excited about the line of Sugar Free products called Sweet Freedom from Blue Bunny®.
November is National Diabetes Month. Be aware of your health and try the new Sweet Freedom no sugar added ice cream from Blue Bunny®. Just because it is sugar free doesn't mean you have to give up on taste. The selection varies from Snack Size Cones, Ice Cream Sandwiches to Butter Pecan Ice Cream. These sugar free ice cream options are perfect for diabetics who need to watch their daily sugar intake. Since it is National Diabetes Month, it is a great time to highlight these products to diabetics.
What makes Blue Bunny® Sweet Freedom amazing and awesome?
No sugar added never tasted this sweet. Blue Bunny® is the first national brand of packaged ice cream and frozen novelties to offer an extensive array of no sugar added options. Sweet Freedom treats taste indulgent while still meeting key nutritional needs for the sugar conscious consumer.
Here are two fun ways, (one a little naughty) to use the Blue Bunny® Sweet Freedom ice cream.
This first one is a to just grab a fresh sprig of mint from your garden and garnish a bowl of mint chocolate chip.
If you don't want a full bowl, you can do this little trick: Take a small spoonful and put it in your coffee! You don't even have to tell anyone. It can be our little secret. With Blue Bunny® Sweet Freedom, you don't have to feel guilty about having too much sugar either.
If you want to see some other ideas, visit this Pinterest board and stay up to date on Facebook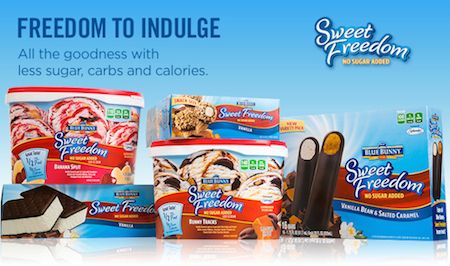 '