Creamy Leek & Potato Soup
Sweet leeks, soft potatoes & a hint of nutmeg combine to make this unbelievably creamy Leek & Potato Soup. Warming, comforting & healthy, it makes the perfect light lunch or a more substantial dinner with lots of crusty bread for dunking!
This Creamy Leek & Potato Soup has just five ingredients (plus oil, water & seasoning) and is exceptionally easy to make. The most difficult part is washing the leeks. They are grown in sandy soil and can be really dirty inside their layers. If you are wondering how to wash them efficiently then have a little look at this slide show from Food Network. Once your leeks are clean all you have to do is sauté them in a little oil, add the cubed potatoes, cover with water and let simmer until tender.  Add coconut milk, nutmeg, seasoning and fresh or dried thyme if you have it then blend and warm through. Done. If you want to serve your soup with croutons I have added instructions for making them too. They are an awesome way to bring stale bread to life.
Coconut flavour is undetectable in the finished soup but adds a beautiful velvety creaminess which is why I prefer it in this soup over using non-dairy milk and nutmeg might seem like a strange addition to Leek & Potato Soup but it really works. You only need a tiny bit and it adds a lovely sweet, earthy depth to the flavour.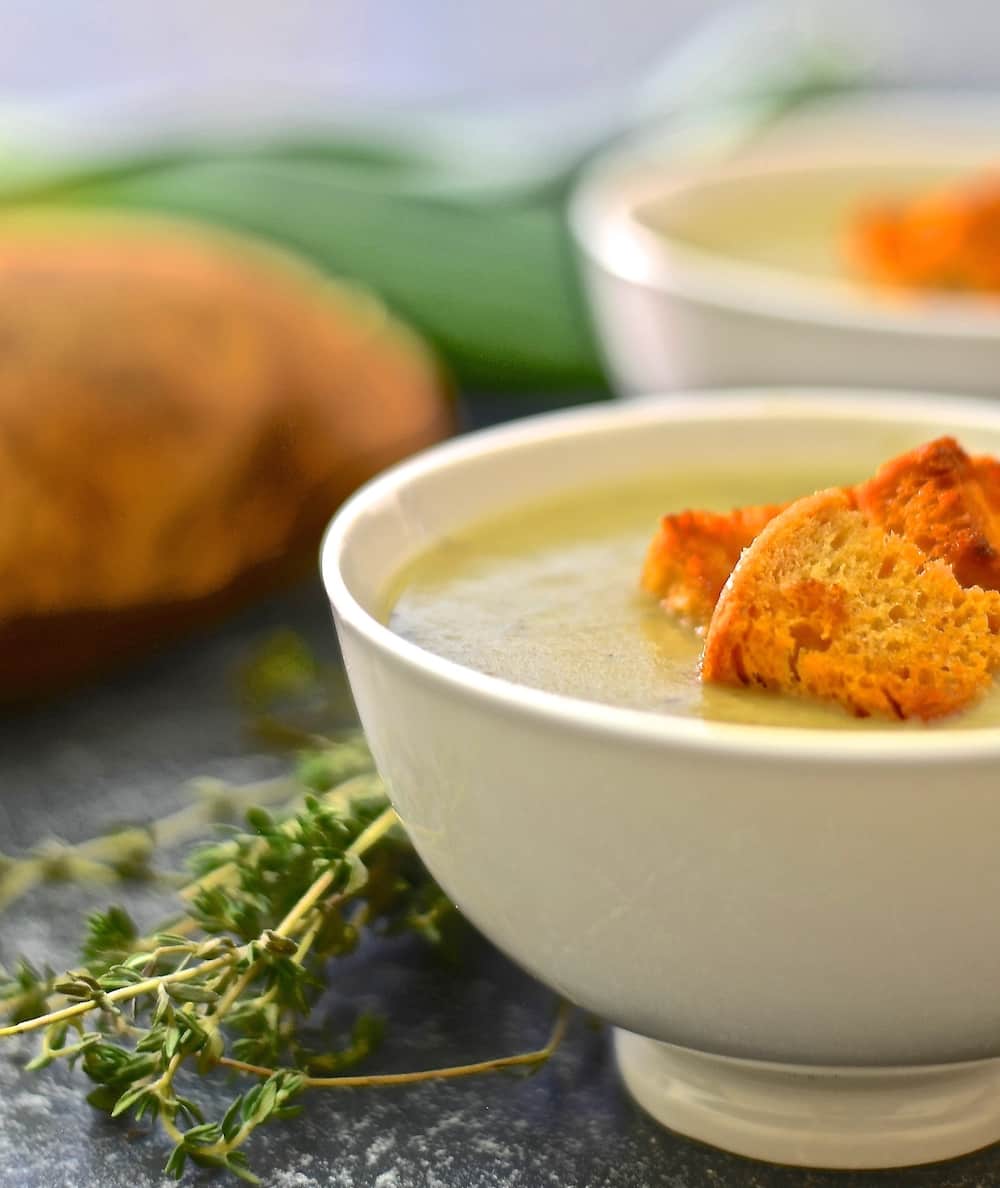 The finished soup has a beautiful pale green colour and subtle, sweet and creamy leek flavour. It  is wonderful served with some golden brown croutons or a thick slice of fresh crusty bread. Read More 
For more about our food category click HERE.
For more great recipes click HERE.
Do you have a recipe to share? We would love to hear from you. Submit your recipes HERE.