2016 Week 5 Tailgating Ideas
This is a weekly series where we review last weeks NFL and NCAA action and check new tailgating Ideas!
What? Going into week 5 in the NFL and there are only 3 undefeated teams left. Here's the incredible part, this short list includes our local team, the Vikings. Denver and Philadelphia are the other undefeated teams.
As an old Viking fan it is really hard to get excited for the team as we have been disappointed so many times in the past. (it's the scandinavian stoicism in me, Uf da)
Anyway, I digress. Something seems different this year. Even Dot, our chicken, is getting excited. Last week she painted her nails purple. How did she do that? What do you suppose Dot will do this week?
If you want to follow Dot's antic's checkout Four Kids and Chicken HERE. She is on Twitter and Instagram too. (@dot_the_chicken, dotthechicken)
Here is the highlights of last weeks action:
Here is last weeks highlights in NCAA Division I:
Alabama holds on to it's number 1 position in the AP college poll:
Here are our picks for this weeks tailgating ideas:
Baked Ham and Cheese Rollups from http://www.highheelsandgrills.com/
High heels and grills says:
These Baked Ham and Cheese Rollups, are an easy appetizer or dinner recipe that tend to always be a crowd favorite. They are made with crescent dough, Boar's Head SmokeMaster™ Black Forest Ham, and swiss cheese, then topped with a delicious mustard glaze.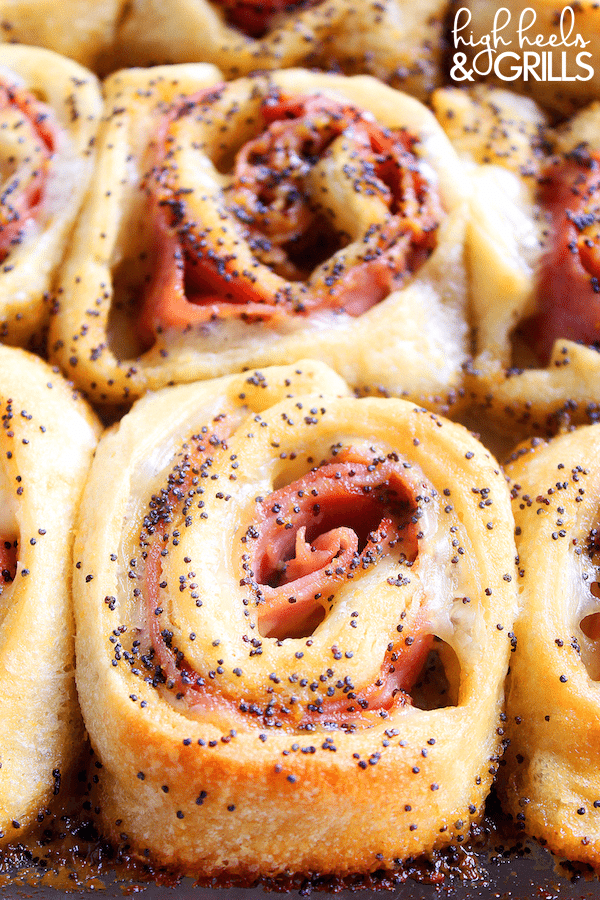 For the recipe click HERE.
Looking for something sweet? Check out these Snickers Bar Blondies from http://cantstayoutofthekitchen.com/
Teresa says:
Snickers Bar Blondies are simply to die for! Each 9×13″ pan has 3 cups of scrumptious chopped Snickers Bars. Oh,  my! Deliciousness at its best. These blondies are A-M-A-Z-I-N-G!!! Rich, gooey caramel, chocolate, and peanuts fill every bite of this decadent, rich, tempting bar. You and your family will love these wonderful goodies.
For the recipe click HERE.
Here's a great looking dip recipe: Cheesy Bacon Ranch Dip from http://deliciouslysprinkled.com/
Jennifer says:
This Cheesy Bacon Ranch Dip is a dynamite dip with the wonderful, savory flavors of bacon, cheddar cheese, ranch dressing and beer that makes it unique and scrumptious. This simple five-ingredients recipe is always a huge hit with everyone and is always the first appetizer to be gone when I bring it to a party.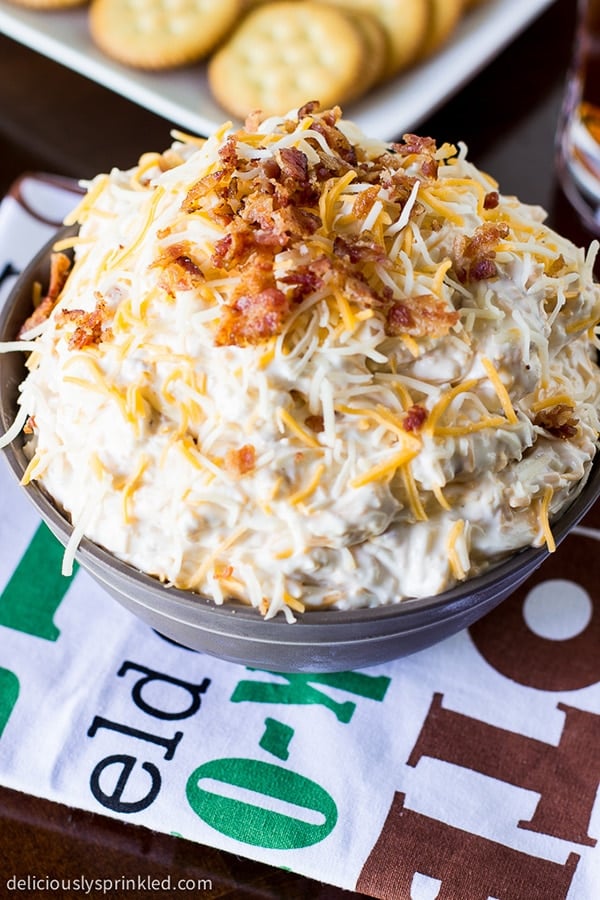 For the recipe click HERE.
How about some heat in your meatballs? Check out Firecracker Chicken Meatballs by http://littlespicejar.com/
Marzia says:
This is my favorite way to eat chicken meatballs. They're spiced up with a sweet, savory, and spicy firecracker sauce. They're tender, filled with flavor, and require minimum work!
For the recipe click HERE.
Here's a great looking spicy dip: Slow Cooker Buffalo Chicken Dip by http://www.gimmesomeoven.com/
Ali says:
Simply add all of your traditional buffalo chicken dip ingredients to the bowl of a slow cooker…
…stir them together…
…and then after cooking the mixture on high for 60-90 minutes, or on low for 2-3 hours…
…this ridiculously irresistible dip will be ready to serve.  And I do mean irresistible.  I've made buffalo chicken dip dozens of times, and there are never ever leftovers.  It's a delicious fact of life that I'm ok with.  🙂
For the recipe click HERE.
That's it for this week! Be safe out there and may your favorite team win!
For more about our food category click HERE.
For more great recipes click HERE.
Do you have a recipe to share? We would love to hear from you. Submit your recipes HERE.