2016 Week 12 Tailgating Ideas
This is a weekly series where we review the NFL action and NCAA div I highlights. Each week we share some of the best tailgating ideas we have found. Check it out!
Here is the NFL standings after week 11:
Hard to believe it is Thanksgiving week. Lots of football, food and family.
In the college ranks, Alabama holds tight to it's #1 rating in the AP college football poll.
Wisconsin slides into the top 5 this week.
Here are our picks for your tailgating enjoyment.
We start this week with Puffy Tacos from Plain Chicken.com.
Steph says:
These Puffy Tacos are my new favorite way to eat tacos. They were SO good! We dipped them in some salsa, ranch dip and a combination of the two. These Puffy Tacos taste great right out of the oven or at room temperature. We even reheated the leftovers for lunch the next day. They tasted great every time.

For the recipe click HERE.
For your sweet tooth we have S'mores Rice Krispy Treats Pinwheels from Mom on Time Out.
Mom says:
Say good-bye to square rice krispies treats and hello to these fun pinwheels! I couldn't resist making a rice krispies treat for s'mores week.  BUT, I wanted to do something fun, something unexpected, and these pinwheels are just that.
For the recipe click HERE.
Dips are always popular. Check out this Jalapeno Popper Dip from Spend with Pennies.
Holly says:
Jalapeno Popper Dip is my go to party appetizer.  Rich cream cheese, spicy diced jalapenos and sharp cheddar are topped with crispy Panko bread crumbs and baked until warm and gooey.  The result is the most incredible dip, reminiscent of the appetizer we all love so much!
For the recipe click HERE.
We haven't had a mushroom recipe for a while. These Pizza Stuffed Mushrooms from Plain Chicken look great!
Steph says:
This recipe combines two of our favorite foods – pizza and mushrooms! We have made these Pizza Stuffed Mushrooms several times and we can't get enough of them!! They are great for parties, tailgating and a quick low-carb lunch or dinner. We stuffed the mushrooms with a combination of pepperoni and sausage (our favorite pizza topping combination). Feel free to add green peppers, onions, olives – whatever you like on your pizza!
For the recipe click HERE.
Like Sweet? Like Spicy? Check out these Sweet and Spicy Chicken Bites from Favorite.net.
Favorite.net says:
What is not to love about these chicken bites, wrapped in bacon, and slathered with a sweet and spicy sauce? Perfect for any tailgate party!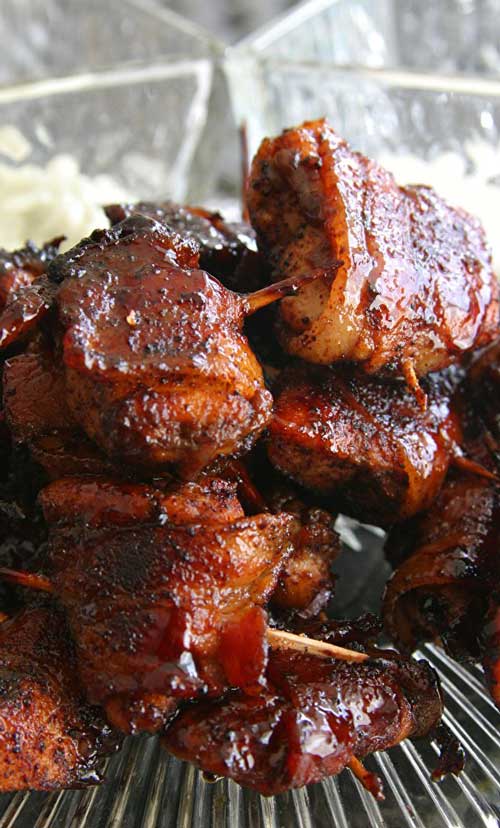 For the recipe click HERE.
Here's one we are trying this week: Stuffed Biscuits and Gravy from the Nom Recipes.com.
Samantha says:
These stuffed biscuits and gravy are a fun twist on a classic. They're easy to make and perfect whether you're sipping your morning coffee prepping for the day or rushing out the door for errands. Sweet and spicy on-the-go comfort food the whole family will love.
For the recipe click HERE.
Who doesn't love a Caprese Salad? Well here's a twist, Hot Melted Caprese Dip from Closet Cooking.com.
Kevin says:
This dip is quite literally a caprese salad with tomatoes, mozzarella and basil pesto that is baked until the cheese is all melted and ooey and gooey and oh so good!
For the recipe click HERE.
Thats it for this week! Be safe out there and may your favorite team win.
For more tailgating ideas click HERE.
For more about our food category click HERE.
For more great recipes click HERE.
Do you have a recipe to share? We would love to hear from you. Submit your recipes HERE.