2016 Week 15 Tailgating Ideas
This is a weekly series where we share NFL and NCAA stats and ranking along with some awesome tailgating ideas.
This is the NFL standings after week 14:
In the college ranks here is the latest AP division I poll:
The only change in the top 5 this week is Penn State knocking Michigan to #6 and taking the #5 spot.
Here are our picks for NFL week 15:
From Home Made Interest.com we found these Parmesan Chicken Sliders!
Kat and Melinda say:
These Chicken Parmesan Sliders are an easy recipe made with fried chicken tenders, tomato sauce, and lots of cheese!
For the recipe click HERE.
Any time is good for Bacon, right? Check out these Candied Smoked Chipotle Bacon skewers from The Tasty Bite Blog.com
Karen says:
Crispy sweet and savory thick cut bacon in skewers make for an indulgent treat.  Great for topping pancakes and french toasts too!
For the recipe click HERE.
Here's something you don't see every day: Piña Colada Cookie Cups from Life Love and Sugar.com.
Lindsay says:
These Pina Colada Cookie Cups are a coconut cookie filled with pineapple cheesecake. They are topped with a bit of whipped cream, pineapple and a cherry and turn one of my favorite summer drinks into a delicious dessert!
For the recipe click HERE.
Looking for something with a little more zing to it? Try these Jalapeño Popper Potato Skins from An Edible Mosaic.com.
Faith says:
For the holiday season, I don't know about you, but in addition to scouting around for new cookie recipes, I'm always looking for new appetizer ideas as well. I like to switch things up for holiday parties and this combo (jalapeno poppers + potato skins) is a fun one to do just that. (And be sure to keep this recipe in mind for game-day parties too!)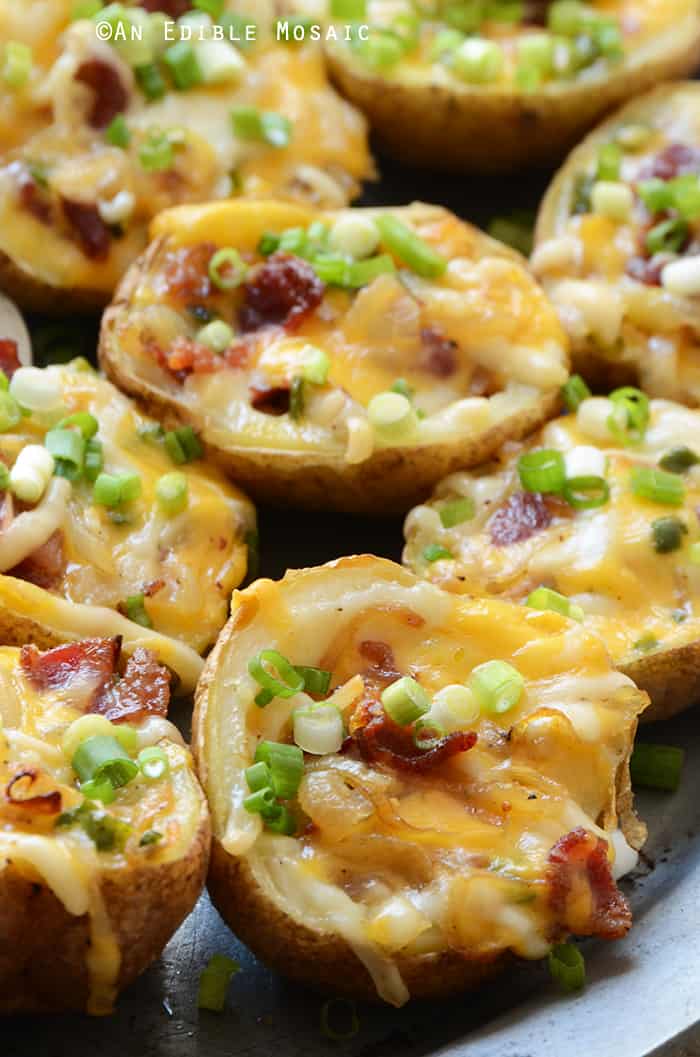 For the recipe click HERE.
From the First Year Blog was found this awesome Football Puppy Chow.
Beth says:
We took everyone's beloved party snack (puppy chow!) and football-ified it. I am also pretty confident that almost anything can be football-ified (this word should be added to the dictionary, btw!)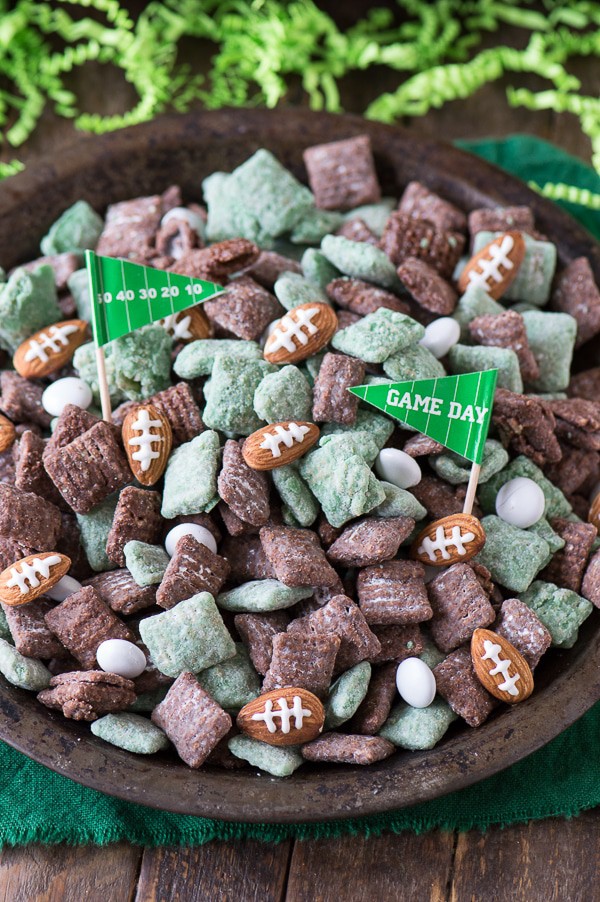 For the recipe click HERE.
Here's another great idea for your sweet tooth. Football Cupcakes from Your Cup of Cakes.com.
Lizzy says:
These Football Cupcakes were so easy to make, I just had to make a video to show you how simple! The cake mix, which can be swapped out for the Pillsbury Purely Simple Chocolate Cake Mix, makes this recipe even easier! Plus, I made both colored frostings at the same time by being a little sneaky

 You'll have to read the recipe for that trick!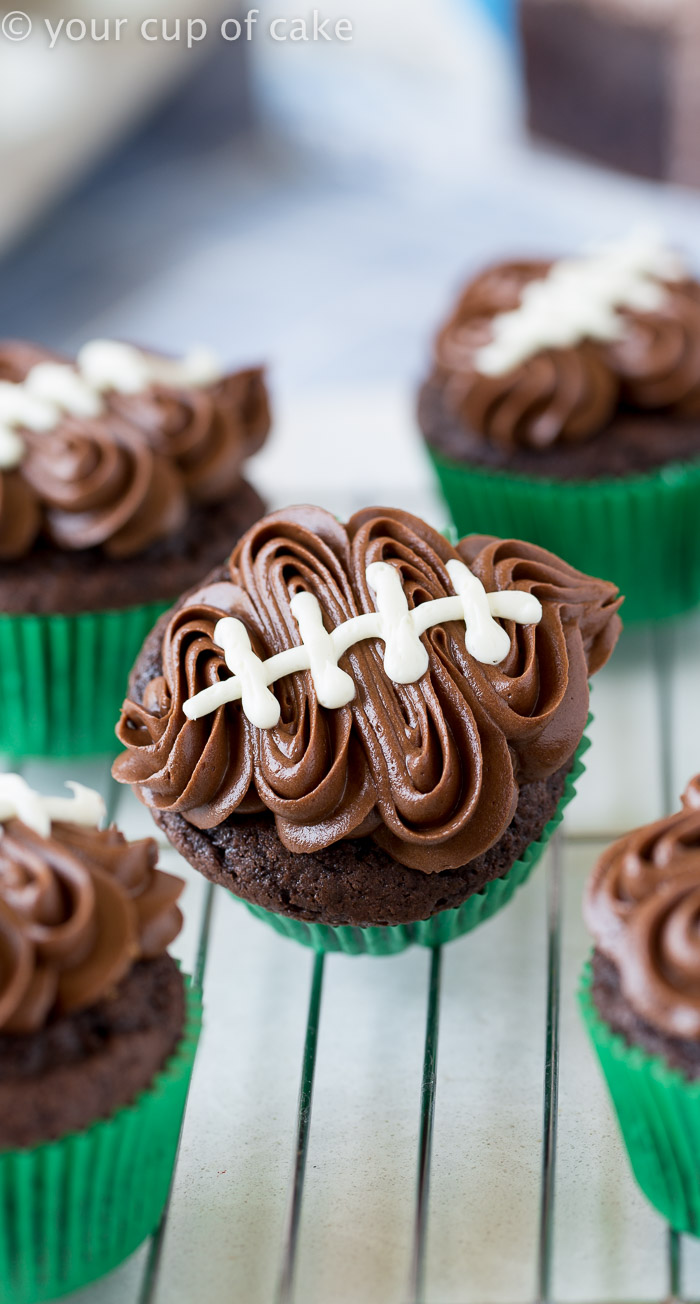 For the recipe click HERE.
It starting to look like winter but it's still officially fall. Here's one more pumpkin recipe:
Caramel Pumpkin Cheesecake Dip from Mom on Time Out.com.
Mom says:
This easy to make, over the top Caramel Pumpkin Cheesecake Dip will have everyone coming back for seconds! The perfect dessert or appetizer for fall!
For the recipe click HERE.
From Can't Stay out of the Kitchen we have one more dessert: Cake Batter Blondies.
Teresa says:
Cake Batter Blondies are a wonderfully, decadent, amazing little brownie. This one is so simple, and it uses only a few ingredients. It uses white chocolate chips to make it rich, and the cake or cookie decorating sequins (rainbow sprinkles)  in the batter to give it bursts of color. It is a dense, gooey bar that is spectacular in appearance as well as taste. If you're looking for easy, economical, quick, delicious, and a brownie (blondie) without nuts, this is it!
For the recipe click HERE.
That's all for this week. Be safe out there and may your favorite team win.
For more tailgating ideas click HERE.
For more about our food category click HERE.
For more great recipes click HERE.
Do you have a recipe to share? We would love to hear from you. Submit your recipes HERE.