Cranberry Orange Snowballs
Classic snowball cookies, but with dried cranberries and orange zest for a fun makeover. These Cranberry Orange Snowballs have Christmas and holiday celebrations written all over them.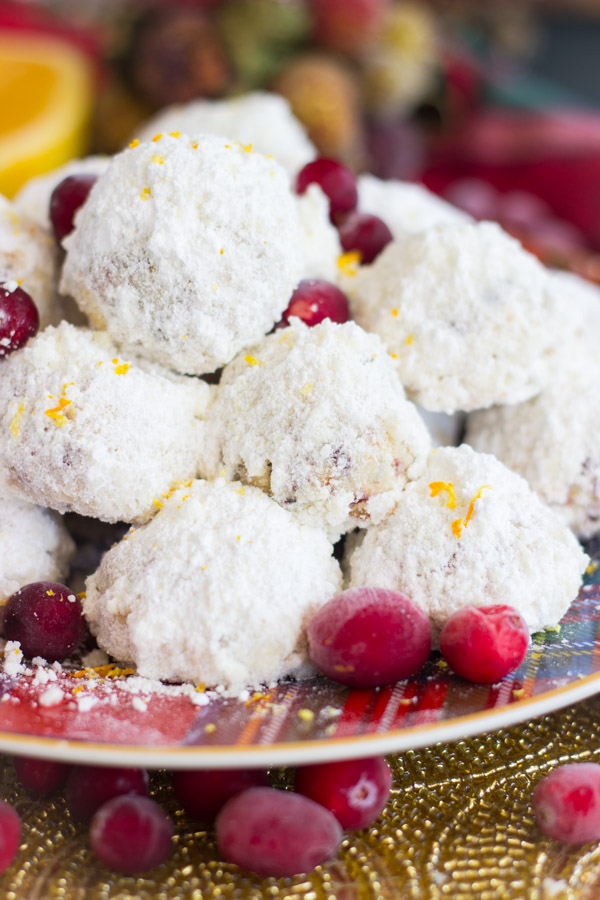 We are talking about a sweet and delicate cookie that melts-in-your-mouth. You really cannot go wrong with any flavor!
A quick discussion on ingredients. We've been making Snowballs for as long as I can remember, and we've always made them with shortening. A colleague of mine told me that her mother always made these cookies, and she called them Butter Balls. She  made them with butter, apparently, and I noticed Snowballs exploding on the internet the last few weeks, and most other recipes called for butter as well! Always the same remaining ingredients and measurements (for the most part), but butter instead of shortening.
I can only tell you what I've tried, and it's always shortening. So, whatever your preference, it substitutes equally. This calls for 1 c. shortening, you can use 1 c. softened butter instead, if you prefer. I've never made them that way myself. I would think that butter would add flavor, but would change the texture. I would assume they'd be a bit crispier.
I personally love Snowballs for their distinctly soft, melt-in-your-mouth texture, and sweetness. Butter might change that. It's your call?? I will experiment further if I do Snowball week again next year!
Either way, these Cranberry Orange Snowballs are as easy to make as the classic version, and it's just two added ingredients that give these a festive and tasty new spin. Yep, you guessed it: dried cranberries and orange zest. So simple, but so effective at giving these an overhaul.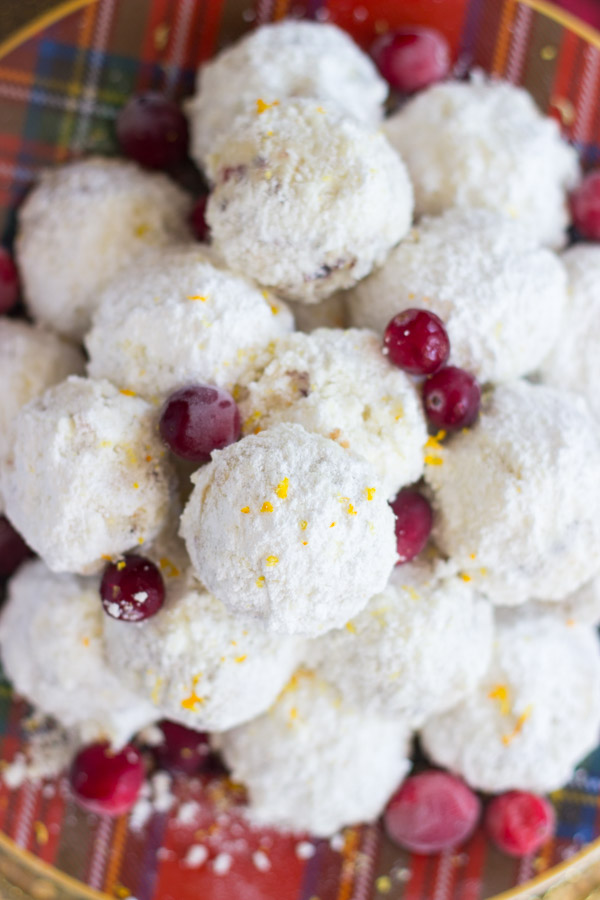 Get the RECIPE!
More from The Gold Lining Girl…
For more about our food category click HERE.
For more great recipes click HERE.
Do you have a recipe to share? We would love to hear from you. Submit your recipes HERE.