2017 Superbowl Tailgating Ideas
This is it. The end of the season. Love them or hate them, either Atlanta or New England will be Super Bowl Champions. For many people, they just don't care who wins. It's all about the food, the commercials and the halftime show.
Everything about the Super Bowl is big. Big hype, big entertainment and big parties. We put together a super sized post for the last tailgating event for the 2016 / 2017 NFL season.
Here are picks for Superbowl 51:
From The Domestic Rebel we present Maple Caramel Bacon Crack!
Hayley says:
If there's one thing I want to eat before I die, it's definitely this Maple Caramel Bacon Crack. It's highly addictive and extremely delicious. Smoky, sweet, crunchy, buttery, chewy — the perfect conglomerate of badassness.
For the recipe click HERE.
From Lil' Luna we offer these great looking Spinach Dip Bites!
Kristyn says:
I'm obsessed with Spinach and Artichoke Dip. It's such a great combination of taste to me, and you can find that great mix in these bite-size and crunchy Spinach Dip Bites. They are so warm and cheesy and would be great for your next get together. The recipe is simple too, but I warn that you won't be able to just eat one of these bad boys!
For the recipe click HERE.
For you Atlanta Falcons Fans we have Atlanta Falcons Pretzels from Two Sisters Crafting.
Laurie says:
For the recipe click HERE.
Check out these Easy French Dip Sliders from Chelsea's Messy Apron.
Chelsea says:
The best possible version of French Dip sandwiches — made into oven-baked sliders with a delicious buttery topping!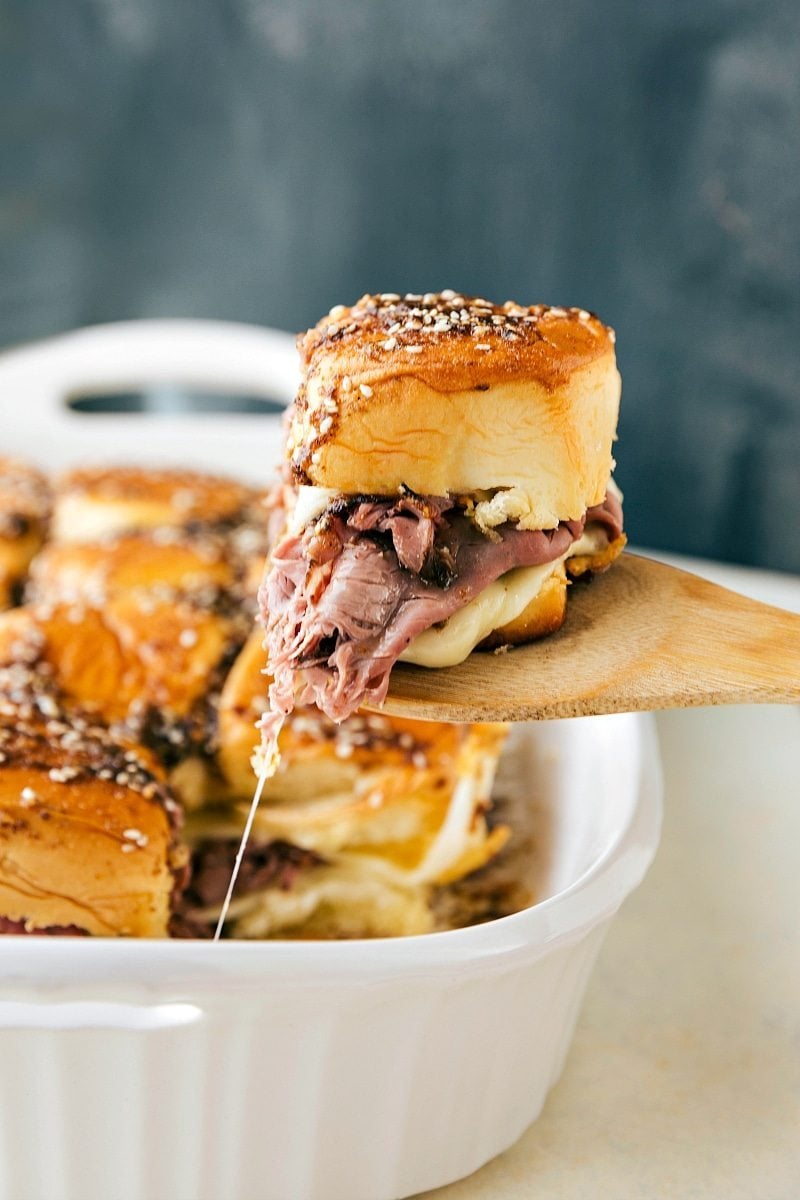 For the recipe click HERE.
How about Individual Seven Layer dips from The Girl Who Ate Everything!
Christy says:
Seven layer dip is one of my favorites. But after a few people have dipped (hopefully not double-dipped), it starts to look like mush. All the pretty layers turn into an unidentifiable, unappetizing pile. My sister told me about the idea of individual seven layer dips as a party idea.
For the recipe click HERE.
For the New England fans we have Patriots Football Cupcakes from Cupcakes Take the Cake.
Maura says:
I whipped up some red velvet cupcakes with cream cheese frosting. Although I was a little leary at first at the thought of blue cream cheese frosting, I couldn't be a designer for the team and not use the team colors, right? So I added in some blue and hoped for the best. Then I added some white chocolate "Patriots" and stars and a few white pearls.
For the recipe click HERE.
From West Via Midwest we offer these Avocado Crab Cakes
Michele says:
Avocado Crab Cakes sends an ordinary crab cake right off the charts! This recipe has big chunks of crab mixed with cubes of fresh avocado that gives a creamy, full flavor bite! Dip it in a Sriracha dipping sauce for added zing!
For the recipe click HERE.
And finally we present BLT on a Stick from Art From My Table.
Art From My Table says:
I think this recipe is perfect for any upcoming backyard BBQ or party you might have.  It's the perfect party appetizer!  No eating utensils needed, no dishes!!  Brilliant, right?
For the recipe click HERE.
That's it for this year! Thanks for following along. Be safe out there and may your favorite team win.
For more tailgating posts click HERE.
For more about our food category click HERE.
For more great recipes click HERE.
Do you have a recipe to share? We would love to hear from you. Submit your recipes HERE