Pickled Beet & Gorgonzola Spinach Salad
This pickled beet & gorgonzola spinach salad is full of delicious and nourishing ingredients such as berries, pecans, spinach and more. Perfect for a dinner party or to just brighten your day.
Recently I was shopping and came across some beautiful golden beets. I like beets and the colors always get me. So I bought a bunch and the first thing I wanted to try was to pickle them. They turned out really good so I then went on to build a beautiful salad showcasing them. That is how I came up with this pickled beet & gorgonzola spinach salad. It consists of baby leaf spinach and topped with pickled beets and onions. Then I added some fresh raspberries and blueberries along with a few pecans and crumbled gorgonzola cheese. This delicious salad tastes tangy, tart, sweet, crunchy, creamy and nutty. It has it all!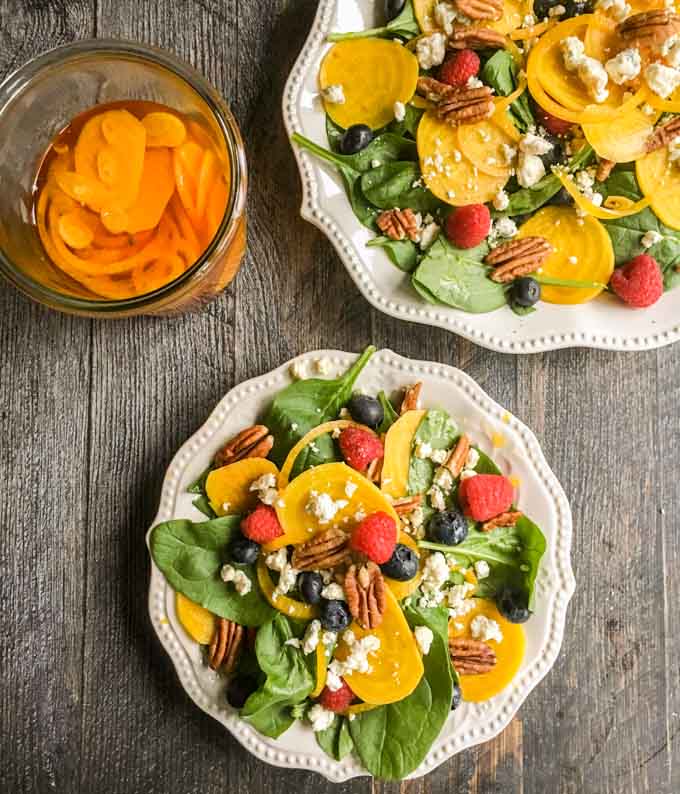 For more about our food category click HERE.
For more great recipes click HERE.
Do you have a recipe to share? We would love to hear from you. Submit your recipes HERE