No Bake Quadruple Layer Chocolate Pudding Pie Recipe
Four layers of chocolate sinfulness in this Layered Chocolate Pudding Pie recipe, but it's quick-prep and no-bake!!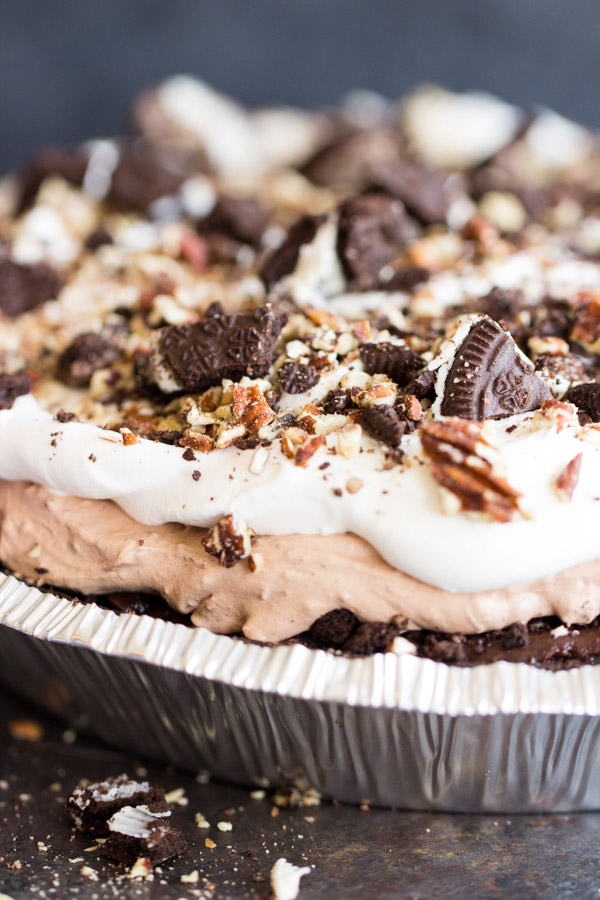 First, I made us a ridiculously decadent and sinful chocolate pie, but one that you can prep in about 15 minutes, and you don't need an oven. YAY! It's a super fast no-bake pie. You know I am all about those in my life. A few of them are insanely popular here, like this No-Bake Peanut Butter Pie Recipe, and this Chocolate Coconut Cream Pudding Pie. That's such a good pie for spring and summer. Light, mousse-y, easy.
Since y'all seem to like those pies, this Quadruple Layer Chocolate Pudding Pie recipe will be right up your alley. It packs a lot of sinfulness for how easy it is, and it stays very light, not heavy.
It starts with a prepared chocolate cookie crust (make from scratch, if you'd like), and first features a layer of chocolate fudge and pecans. Not chocolate fudge sauce, but actual chocolate fudge with pecans. A quick fudge of melted chocolate and sweetened condensed milk. It's outrageous!
I sprinkled that fudge layer with chocolate cookie crumbs for crunch…. because the next few layers are really creamy and mousse-y, so it was nice to have crunchy bites of cookie in the middle!
A layer of chocolate pudding follows, then a quick chocolate mousse layer, and top it with whipped topping, more pecans, and more chocolate cookie crumbs. It's 4 main layers (hence, quadruple – ha!), but it comes together in about 15-20 minutes. Minimal labor, and only a few ingredients too.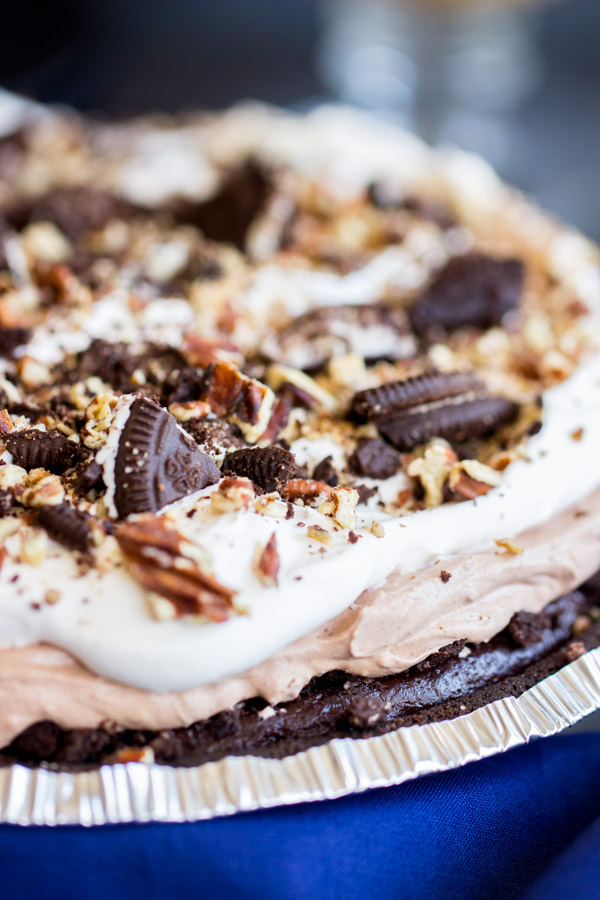 Get the RECIPE!
For more about our food category click HERE.
For more great recipes click HERE.
Do you have a recipe to share? We would love to hear from you. Submit your recipes HERE