Nutella Rice Krispie Treats
Nutella Rice Krispie Treats with a chocolate bath and a chocolate drizzle! These are so rich and gooey with extra marshmallows and LOADS of Nutella! SO decadent. And for a RKT, they're practically fancy and gourmet!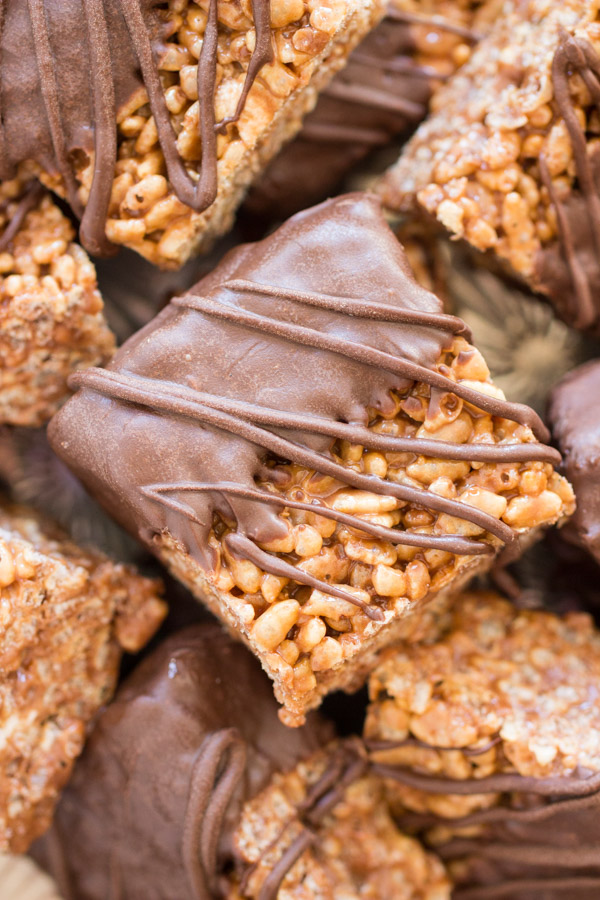 These Nutella Rice Krispie Treats are awesome. If you made me eat Rice Krispie Treats for the rest of my life, and I could only choose one variety, I think I'd want it to be these. There's only a few tweaks from original RKTs, but those little changes are ALL the difference in the world.
Because, hi, one key addition is almost a cup of Nutella. Gooey, creamy, sweet, chocolate-hazelnut spread. It's freakin' incredible in Rice Krispie Treats. Not just because of the chocolate and hazelnut flavors, but because it adds more gooeyness and stickiness. Also, more butter and more marshmallows in these Nutella Rice Krispie Treats. More of all things RKTs. More is always better, right? Definitely true in these bars. Ooey-gooey factor is maxed out here.
Where they really go over-the-top is with the chocolate dunk. Dipping half of these Nutella Rice Krispie Treats in really good-quality dark or semi-sweet chocolate is next-level. These are fantastic without it, but they are INSANE with it. Don't you want all your desserts to be insane? Of course you do. The chocolate dunk actually makes these feel gourmet and fancy. These are not just RKTs, they're gourmet RKTs. The kind of RKTs you could almost have at a wedding, and they'd feel totally appropriate. Seriously.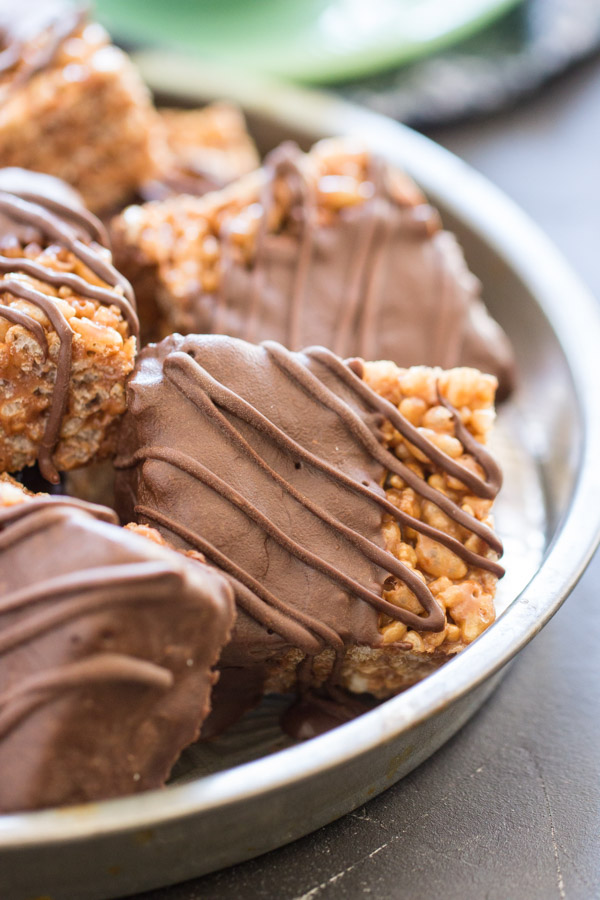 Get the RECIPE!
Visit The Gold Lining Girl….
For more about our food category click HERE.
For more great recipes click HERE.
Do you have a recipe to share? We would love to hear from you. Submit your recipes HERE