This is a Sponsored post written by me on behalf of Blue Bunny Ice Cream for SocialSpark. All opinions are 100% mine.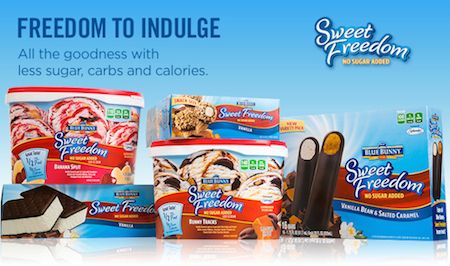 Hi, this is Chris from livedan330.com and today we have a double birthday party!  Johnny turns four and Estella turns two. We are sampling the blue bunny sweet freedom no sugar added ice cream at their party. We purchased the Blue Bunny Banana Split and Bunny Tracks flavors and we will be enjoying them with some homemade chocolate and vanilla cake.
As a parent it is important for me to give my kids healthy food.  But that doesn't mean they can't have a treat. I just want to make treats as responsible as possible. That's why I like the blue bunny sweet freedom no sugar added ice cream. It is a light ice cream which means it is healthier than regular. The no sugar added is great for me because I am concerned about diabetes (I'll tell you more about that in an upcoming post) and it is great for my kids because they don't get as crazy after they enjoy their treat. After trying the ice cream, I think it is as good as the original, but it has one half the fat and one third third the calories.
The kids would't let me near their cake and ice cream, so I had to take a picture of my own. Look how good this looks!
As a parent, do you know what is better than 20 kids running around in your house? 20 kids all hyped up sugar! That's what. Well, you know I am kidding. But that is exactly why we purchased the Blue Bunny Sweet Freedom ice cream. But with no sugar added ice cream, we can make more moments count too. Every day, my boys ask me "Can we go fishing? Can we go fishing? Can we go fishing?" and my girls join in the chorus when it changes to "Can we go get ice cream?!" My entire family loves ice cream and summer is such a special time to get out and enjoy life. We try to make every moment count #MySweetFreedom.
As a major pinterest account, I love giving advice to go to Pinterest. Check out the Pinterest ideas here. Or, if you prefer, you can visit the Facebook page too.