Everything You Need to Know About Teak Furniture
When teak is used outdoors, it does not need to be oiled. Oil actually makes the wood more susceptible to staining and discoloration. It will however, gradually fade to a grayish color over time in the sun as the natural oils on the surface of the wood evaporate. If you don't like this grayish color, the natural honey brown can be brought back out of the wood by using a teak cleaner. Make sure you do not oil teak, there is no benefit to the wood, can likely damage it, and cause you to do regular maintenance maintaining your color. 

Like anything else, it is good to periodically clean your teak furniture. lightly soapy water will do just fine. If you feel you need to cover your furniture, do not use a tarp or plastic. The cover must be breathable so as not to damage the wood. 

Over the next few pages, I will show you some ideas how you can integrate teak furniture into your home and patio design. 

Look at this really nice teak set from Frontgate: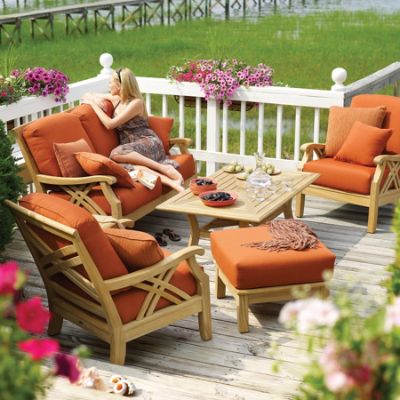 More on the following pages!