Perennial gardening is fairly easy once your garden is established. One challenge I had when I started gardening was to get color all through the summer. Tulips and other bulbs are easy color in the spring, then comes the iris, lilies, and day-lilies before the coneflowers and other mid-summer flowers. But, what about fall? How do you get color in the late summer and fall without making it look like Halloween in August?
So, what plants do I need to buy to get color in the late summer? We put together three articles we thought were great to help you out with this problem.
The first one is from from This Old House.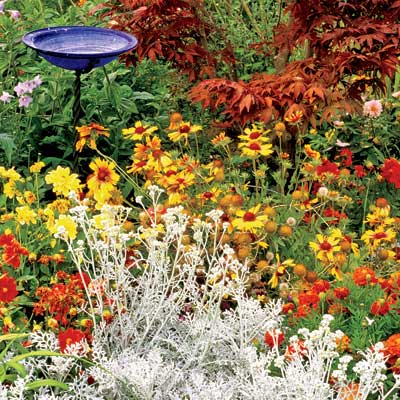 Read it here.
In short they recommend marigolds, asters, and zinnia to keep your garden colorful.
Gardeners Supply Company recommends using annuals. Plus annuals usually flower all summer long giving you constant color. But do a little research because you may not live in a zone that these plants are native to so some care may be required. However, there are plenty of annuals that will only require regular watering.

Read the article here.
Gardeners.com offers a list of heat tolerant annuals that will help you keep the color alive and offer some other tips to make your entire garden look healthy.
This hometalker had a few recommendations for flowers as well. Hometalk is an awesome resource for gardeners. If you have any question, they have experts available to answer your questions.

Read the article here.
This hometalker suggested adding sneezeweed and spider flower. You can complement the yellows and golds with purples and pinks this way.
Well, we hope you enjoyed the article and happy gardening! Remember to share and follow us too!