This post brought to you by Purina®. The content and opinions expressed below are that of Live Dan 330.
Growing up with and currently having a pet, I really understand all that they do for me and my family. They bring you comfort and joy daily. Any pet lover knows they are as much a part of the family as any other member.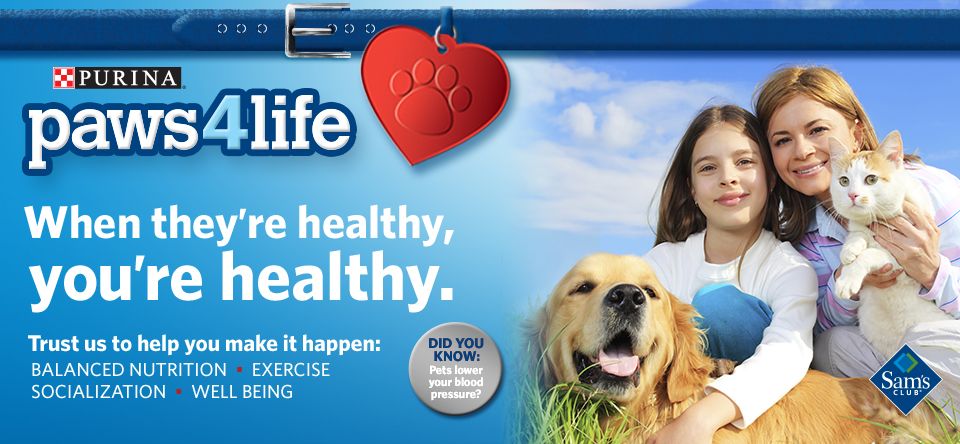 Right now my family has an awesome cat; Kona. He is so much fun for the small children to play with and a great companion for the rest of the family. My family has also had dogs in the past too. The benefits of a good pet are huge. They really complete our family of 6. 
I make an effort to keep my kids and family healthy. I also pledge to include our families pets. That's why I belong to and shop at Sams Club to puchase my Purina® pet products. 
Did you know that pets increase a families health and happiness? They also help promote socialization, patience and motivation. These are things that I want my kids to master. 
Pets are a valuable part of our family. They bring so much to our life everyday, we want to publicly share our commitment to our pets health. Sam's Club wants to help increase the health of ever member and their pets and we are sharing their campaign to do so. 
Purina® prides itself on producing healthy, nutritious pet food products, providing all the nutrients your pets need. As part of this passion, Purina® and Sam's Club are hosting the Paws 4 Life Pledge. You can go online and take the pledge to live a healthier lifestyle as well as give your pet one too. Your pet has always been there for you, so it is time to be there for them because a healthy pet is a happy pet.
I have a challenge for you: Take the Paws 4 Life pledge at 
Share with us your pledges in our comments below! We would love to hear about your pets and how they are part of your family.