8 Cool & Creative Things to Do With Ice Cream Cones
When you look at an ice cream cone, what do you see?
If you merely see a receptacle for a scoop of delicious ice cream, well then it's time to kick your imagination into high gear.
Take your inspiration from Ernest Hamwi, the inventor of the ice cream cone.  He was a waffle merchant at the 1904 World's Fair who got creative, thought fast and offered up a rolled-up waffle to the ice cream seller next who'd tragically run out of serving cups.
If you're like Hamwi and like applying your ingenuity to your recipes, these ideas are for you.
Healthy Eats on the Go
It can be tough to get kids excited about healthy food, but a little creativity can go a long way.  Try pouring some yogurt, low-fat pudding, oatmeal or cottage cheese into a cone and then topping it off with fresh berries, nuts, raisins or a few chocolate chips.  It looks a lot more fun and enticing than it would in a bowl, but it's still nutritious.
Handy Apps
If you like to entertain, you're probably always looking for unique ways to present your delicious dishes.  For a conversation-starting presentation, take a stab at serving up savory appetizers in ice cream cones.  Stay with me here – bake cornbread muffins inside of mini cones and top them off with cream cheese "icing."  Or fill the cones with tuna/chicken/potato salad for perfect, handheld servings that everyone will love.
Cupcakes in a Cone
Use cake cones with a flat bottom to make adorable cupcakes the likes of which your friends have never seen.  Simply pour your usual cake batter into the cones (being careful not to overfill), bake, frost and decorate them to look like tasty scoops of ice cream.
Thankful Cone-ucopia
Everyone likes to make the Thanksgiving table festive and fun, and now you have a new way to do just that.  Start by soaking the tip of sugar or waffle cones in warm water for just about 20 seconds, then microwave cones for 20 seconds.  Here comes the important part:  Roll the softened end around a pencil to form a cornucopia shape.
Once it's hardened, fill the cone with candy corn, M&Ms or a candy or your choice, and then use plastic wrap and a rubber band to cover the top.  You can add tags with your guests' names to turn the treats into unique table name cards.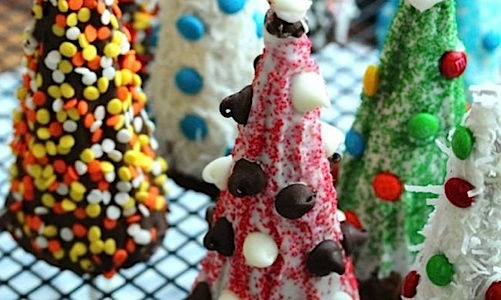 Sweet Party Favors
If you've been to a child's birthday party or two, you know that party favors are all the rage.  Do something different by creating a special treat with a hidden surprise inside.  Form basic Rice Krispie Treats into scoops with flat bottoms, then dip them in candy melts of various colors.  Next, fill empty cake cones with a variety of small candies, and then put your Rice Krispie treat scoops on top.  Place into clear plastic bags, tie with a ribbon and you've got the perfect party favor.
Cone-oli
Take this easy and cute route to making cannoli next time you cook up a fabulous Italian meal.  Make your own sweet ricotta filling first, then dip the opening of a sugar cone into melted chocolate. Roll the chocolate-coated end in some mini chocolate chips.  Give them a chance to set, then fill with the ricotta mixture and serve.
Tea Cup Treats
For the little girl who loves a tea party, try this sweetly adorable idea for her next birthday party.  It's a little involved (full instructions are here), so you may only want to attempt these if you're very crafty.  It involves using the top of a cake cone to form a little, edible tea cup and filling it with cake pop truffle filling or anything else you think would be delicious inside.
Christmas Cones
Next time you've got a few kids (or adults) hanging around the house around Christmastime, give this edible Yuletide craft a try.  Whip up some basic frosting or get the pre-made stuff at the store, add some green food coloring and you've got your Christmas tree coating.  Turn sugar cones upside down, spread on the green frosting and use various candies and shredded coconut to decorate your "tree."
Clearly ice cream cones are not just handy and yummy ice cream containers, but a whole lot more.
All it takes is a bit of creativity and willingness to experiment, and you can turn your favorite ice cream cones into something deliciously different.
About the Author:  Edward Lee is something of an expert on the ice cream cone.  In addition to being a frequent contributor to food blogs, he is also the National Accounts Manager of BoDeans Baking Group, one of the top suppliers of Waffle Cones Wholesale in the country.  Click here to learn more.