Smashed Potatoes with Garlic Mayo Sauce
This Smashed Potatoes with Garlic Mayo Sauce recipe is a guest blogger submission.
Well, well, well. Here I am back with the two loves of my life: potatoes and garlic. If you're a regular reader around here, you must know that I love everything garlic. I will add garlic to almost everything I eat, minus desserts, because obviously that's crazy. Want proof? Just check out my Crispy Lemon Chicken with Creamy Garlic Penne Pasta and Garlicky Chicken Nuggets.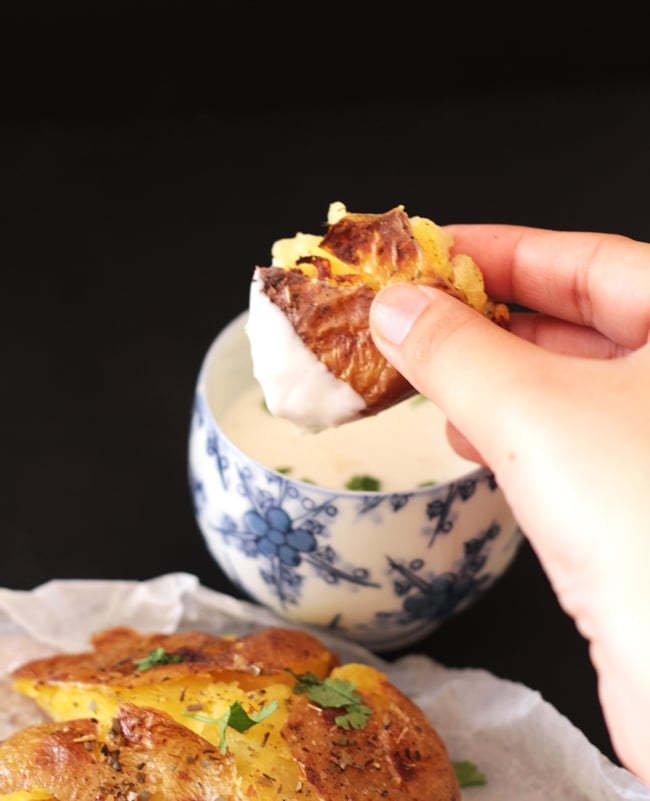 This side is also perfect as a light side dish or appetizer after the holidays. It's healthy too because it's baked! So if you get a craving for fries, and are trying to eat healthy this is a good option. You can still get your potato fix without all the extra oil. Not that I would judge you if you gave into that craving for fries, I would totally bring the ketchup (or this insanely delicious garlic mayo dip below) to dip the fries into hehe. But sometimes you need to be good, and you need to try and eat healthy. Obviously minus the garlic mayo sauce, although that's really delicious with these smashed potatoes so maybe it's okay if you have a little taste? I won't tell, promise.
For more about our food category click HERE.
For more great recipes click HERE.
Do you have a recipe to share? We would love to hear from you. Submit your recipes HERE.