Classic Victoria Sponge Cake
Classic Victoria Sponge Cake is an English favorite.  This recipe uses the classic ingredients of  vanilla sponge cake, fresh whipped cream and raspberry jam.  Whether you're serving it for a special occasion or just  to satisfy a craving, You can't go wrong with this perfect cake.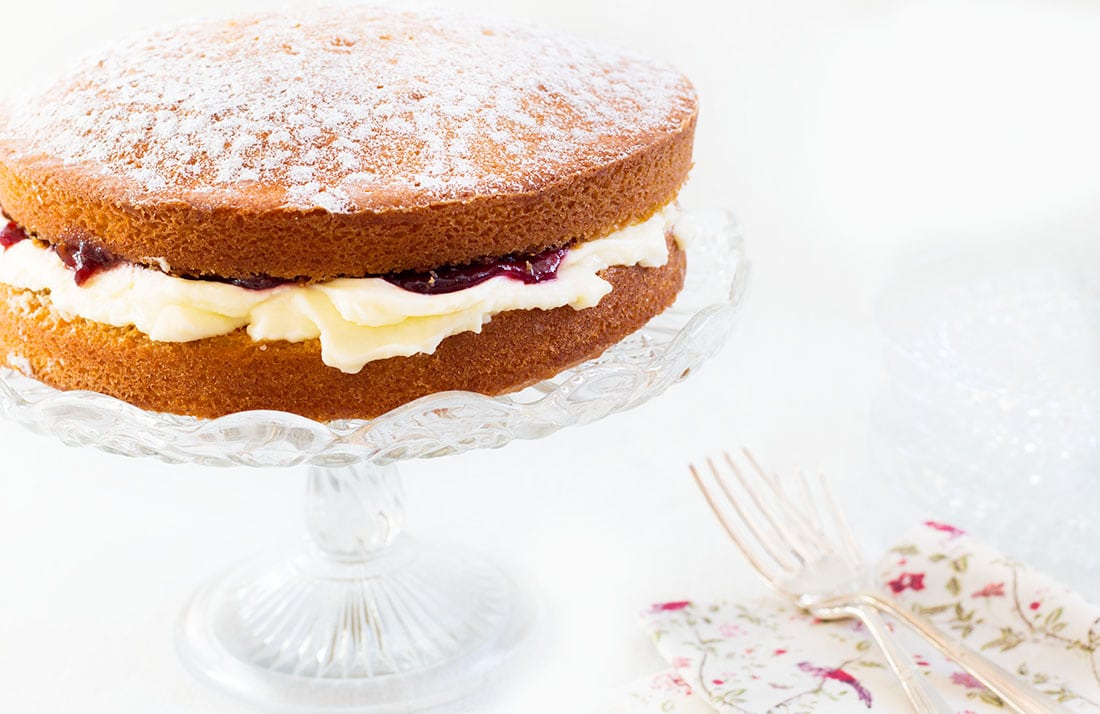 I absolutely LOVE Victoria Sponge Cake.  When I first started this site, I posted another recipe for Victoria Sponge using butter cream instead of whipped cream.  I have never gotten so many complaints!  People really care about keeping a Victoria Sponge just as it should be and that's with fresh whipped cream NOT butter cream.  I guess it's no different than if English people went to America and changed apple pie, making it without coating the apples with cinnamon & sugar and called it 'American Apple Pie', I'm sure they'd be told that's not how we do things over here (that's actually how a lot of English people make apple pie, but as they aren't calling it 'American Apple Pie' who am I to tell them any different?).  So I stand corrected and am posting this recipe to redeem myself and make things right.  The only thing I did different than a lot of English recipes I have seen is I've sweetened my whipped cream.  Americans will understand me when I say that unsweetened whipped cream is just one English thing that I can't do – ever.  It's like making ice cream with no sugar.  For Americans, it just wouldn't work.  I hope on this occasion, I will be forgiven for messing with a British Classic (yet again).
For more and the recipe click HERE.
For more about our food category click HERE.
For more great recipes click HERE.
Do you have a recipe to share? We would love to hear from you. Submit your recipes HERE.
http://www.errenskitchen.com/classic-victoria-sponge-cake/