Quick Rise Chocolate & Salted Caramel Cinnamon Rolls
This recipe for Quick Rise Chocolate & Salted Caramel Sticky Buns brings traditional sticky buns to a a whole new level.  Better yet, using this quick rise method, you can have homemade sticky buns in about an hour!
Who doesn't love a sticky bun?  I'll be honest, I haven't met a bun that I didn't love and I'm always looking for excuses to make them so it was time to come up with something new.  Salted caramel and chocolate are two of my very favorite things and I've never seen it in a bun before so I just had to try it.  These buns came out absolutely amazing!  They are gooey, addictive and although they are fabulous warm, they were nearly as good left over the next day (and they warm great with just 15-20 seconds in the microwave).  I made them with dark chocolate because it's not as sweet and I don't think milk chocolate would work.  The balance between the bitter sweet chocolate, salted caramel and soft bun is a pure perfection!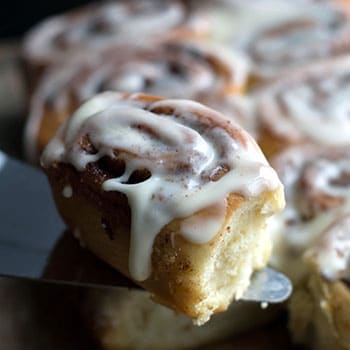 For more and the recipe click HERE.
For more about our food category click HERE.
For more great recipes click HERE.
Do you have a recipe to share? We would love to hear from you. Submit your recipes HERE.