Cauliflower Tabouli (gf, Paleo)
This cauliflower tabouli is a great gluten free alternative to traditional tabouli. Light and refreshing, it's a delicious summer salad.
Have you ever had tabouli? I like to think of it as a Middle Eastern chopped salad. I grew up with tabouli so to me it exemplifies summer. It's light and refreshing and loaded with herbs from the garden. It's also very good for you. Each serving of this recipe has 68mg of vitamin C.  But the reason I made tabouli today was because I had a lot of mint and parsley in my garden. To me, parsley + mint = tabouli. And while traditional tabouli calls for bulgar wheat, today I tried riced cauliflower and it was delicious. So if you like tabouli but don't like the wheat, try this cauliflower tabouli. It only takes a few minutes to make and is a healthy, refreshing summer salad.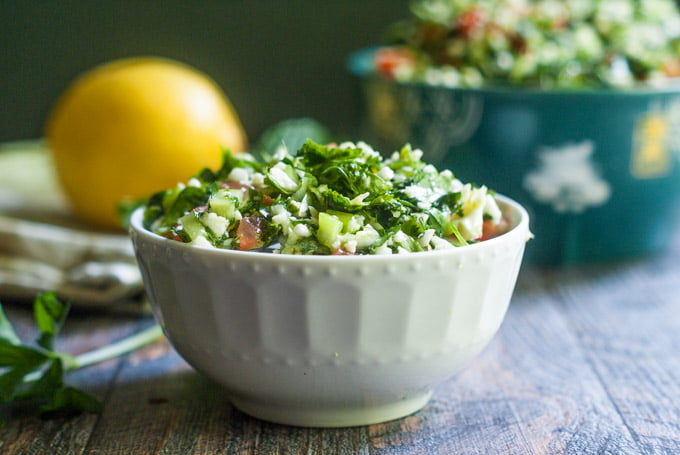 For more about our food category click HERE.
For more great recipes click HERE.
Do you have a recipe to share? We would love to hear from you. Submit your recipes HERE.