Caramel Apple Crisp Cheesecake
Apple crisp baked into a creamy and rich cheesecake. With an oatmeal cookie crust, rich cheesecake filling topped with sweet, cinnamony apples, and a boatload of oat streusel on top! Top with a scoop of ice cream and drizzle of caramel sauce for the ultimate caramel apple crisp cheesecake.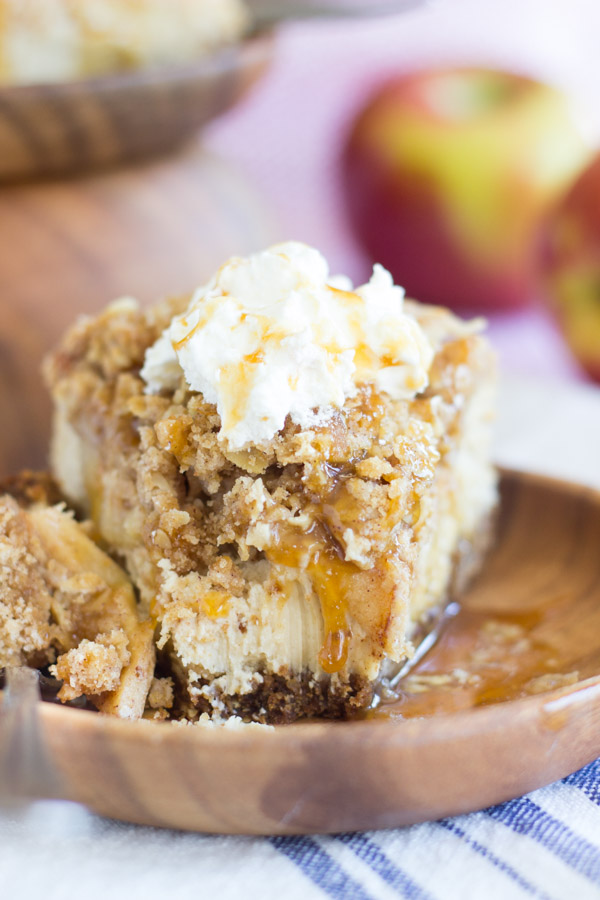 When I think of apple crisp, of course I think of oatmeal streusel. I wanted to carry that theme into the crust too, and not just the topping, so the crust is made with crushed oatmeal cookies. Oatmeal cookie crumbs!! Plus sugar and butter. Easy peasy. Just like making any other cheesecake crust, but more flavorful than graham crackers, for sure.
The cheesecake layer should be no surprise – it's the same basic cheesecake recipe that I use for almost all my cheesecakes. The only change is that I added caramel extract in the batter to give it extra caramel flair. Flair? Or flare? I go back and forth on this. My brother will likely correct me if I'm wrong. Anyway, the caramel extract isn't necessary, but recommended!
Get the RECIPE!
More from The Gold Lining Girl…
For more about our food category click HERE.
For more great recipes click HERE.
Do you have a recipe to share? We would love to hear from you. Submit your recipes HERE.