2016 Week 10 Tailgating Ideas
This is a weekly series where we review last weeks NFL and NCAA action and check out new tailgating Ideas!
Here are the standings in the NFL after week 9.
What do you think? Pretty close everywhere. Only a few dominant teams so far, New England, Dallas and Oakland.
Here is this week's AP college football poll:
No change in the top 5 again this week. Alabama hanging tough at #1.
Here are last weeks college football highlights:
Tailgating this week? Check out these ideas:
These Pizza Pull Apart Sliders from http://www.thecountrycook.net/ look great.
Brandie says:
Sometimes, you just get in a pizza rut. You know what I mean? That's when you know it's time to switch it up. Enter – pizza sliders. They are pizza reimagined. My family got really excited over this recipe. It made the house smell SO good while it was in the oven! And, it's still something my son and I can make together. He loved making a new recipe but with familiar flavors.
For the recipe click HERE.
These Berry and Brie Crescent Rolls from  http://www.adashofsanity.com/ look like a sure winner for your tailgating party.
Sandra says:
This is my sister Nicole's signature dish. And while I love this as a centerpiece, I get kind of bugged by either the lack of cheese or berries I get on my cracker. And then there's those double-dippers (you know who you are). These Berries & Brie Crescent Rolls solve both of these issues.
For the recipe click HERE.
Touchdown Taco Cups! What a great idea from http://www.southernmadesimple.com/
Laura says:
When I started planning out our football party menu for this season, I knew I needed to get my head in the game and bring out the snacks and drinks that fans would really love! My family loves to spice things up a bit when it comes to game day foods, and what better way to kick off the start of the season than with these delicious Touchdown Taco Cups!
For the recipe click HERE.
How about this great looking Cowboy Caviar from http://www.culinaryhill.com/
Meggan says:
Cowboy Caviar is packed with colorful, fresh ingredients that also happen to be healthy. Makes a great salsa, dip, or salad at your next party or barbecue! Naturally vegan and gluten free.
For the recipe click HERE.
Looking for something a little different? Try these Cheesy Wonton Quesadillas from http://www.tablespoon.com/
TBSP says:
Mini quesadillas have never been easier! Round (gyoza) wonton wrappers mimic the shape of a standard tortilla, so prep is quick and the results are delicious.
For the recipe click HERE.
Got a sweet tooth? Try this Football Puppy Chow recipe from http://thefirstyearblog.com/
Beth says:
The ultimate football puppy chow! Cheer on your favorite team with this game day or super bowl snack recipe!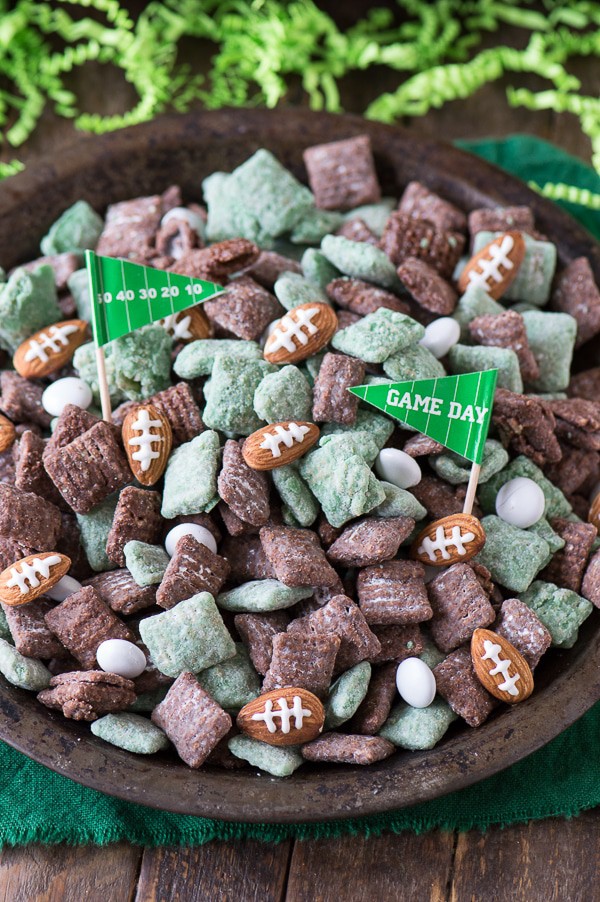 For the recipe click HERE.
That's it for this week. Be safe out there and may your favorite team win!
For more tailgating posts click HERE.
For more about our food category click HERE.
For more great recipes click HERE.
Do you have a recipe to share? We would love to hear from you. Submit your recipes HERE.