Red Chicken Chilaquiles Recipe
A few ingredients come together to make this fun Mexican meal just right for busy nights!
When schedules get busy this time of year, easy dinners are a must. Mexican food is always a hit at our house, so Old El Paso ingredients are staples around here. Take this chilaquiles recipe for example. I just needed to thaw some chicken breasts from the freezer, and the Old El Paso enchilada sauce and beans were already in the pantry. Tortilla chips are a pretty standard item at our house too, or this recipe is also great for using remnant tostadas or crunchy taco shells. If I'm out of anything, it's a quick 5-minute walk to our Safeway to get all the ingredients. Love that!
We're talking about dinner today though, and these red chicken chilaquiles make a good one. Let's suppose for a moment that your kids are picky and turn their noses up at enchilada sauce. I wouldn't know anything about that, but I'm sure it could happen. (I'm being funny here. My kids are as picky as they come.) My suggestion would be to give them some of the shredded chicken with as little sauce as possible with beans and chips. Cover it with cheese and top it with fun, crispy cabbage, and I bet they'll gobble it all right up! Mine did!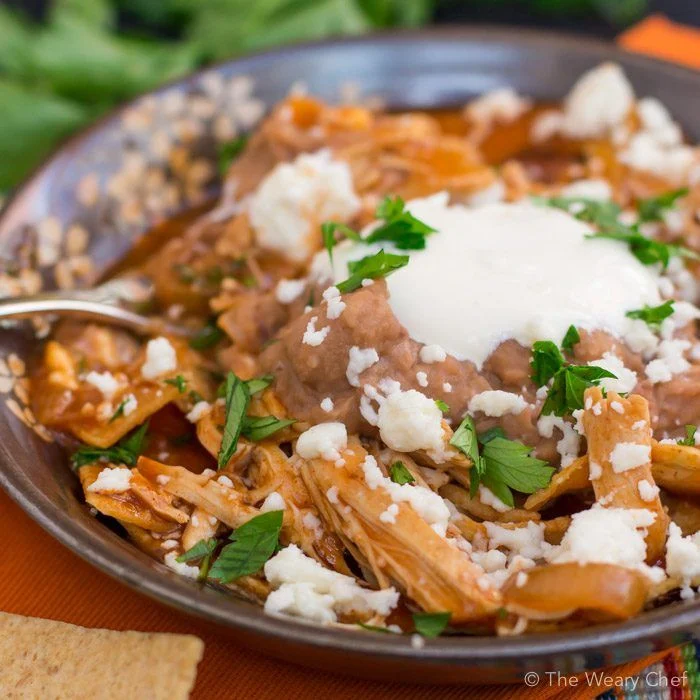 Get the full Red Chicken Chilaquiles Recipe on The Weary Chef!
For more about our food category click HERE.
For more great recipes click HERE.
Do you have a recipe to share? We would love to hear from you. Submit your recipes HERE