Bacon Spinach Mushroom Quiche Pie
This Bacon, Spinach, & Mushroom Quiche Pie recipe is loaded with veggies, cheese, and bacon – a totally complete, filling breakfast dish. It's a little fancy, but still simple to make, so it's perfect for Mother's Day brunch, a bridal shower, or when you have company over!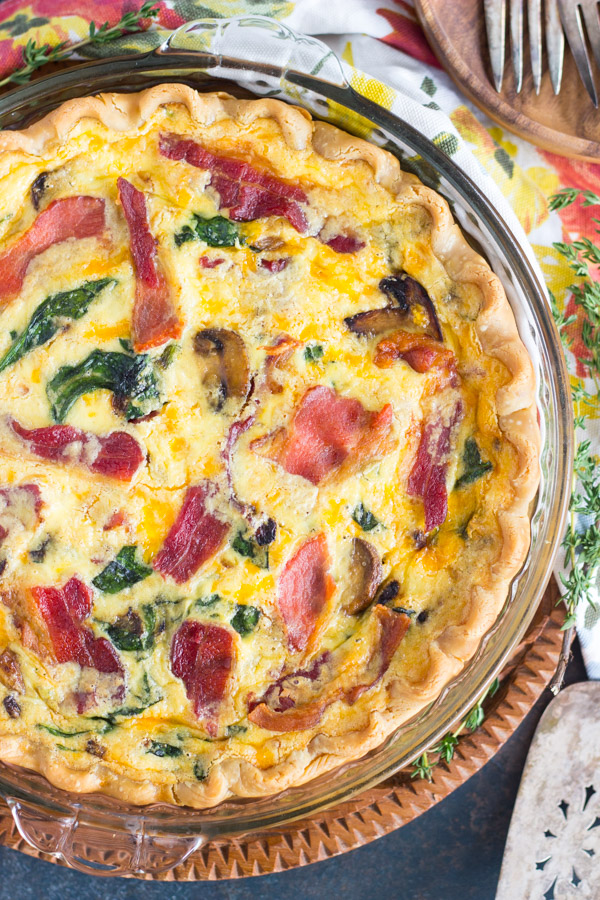 You have to wait a little longer for breakfast when you make this Quiche Pie, but it's so worth it. I recently made this Quiche Pie on a Saturday morning, and it was gone by the end of the day. We polished it off, just the two of us, in about 10 hours. That's how good it is, and you could honestly eat this for any meal. Breakfast for dinner is the BEST, right?
It's super filling and it's got a little of everything – eggs, bacon, veggies, and cheese. All the things you want in breakfast, piled together in a pie crust. It's actually a really pretty dish, so it's perfect for fancier brunches like Easter, Mother's Day, a bridal shower, stuff like that.
Fry the bacon, add the veggies, whisk in some milk, eggs, and cheese, and pour into a store-bought pie crust. Bake. Done. Not a ton of work, but this Quiche Pie recipe is more time-commitment then, say, scrambled eggs. Got it? Cool.
Other bacon recipes to suggest would include these Brown Sugar Maple Bacon Scones with Maple Brown Butter Glaze. I think the recipe title says it all, but the combination of flavors in those scones is unreal. It's one of my top favorite recipes on the entire blog, and they are actually way easier and faster to make than they sound. Awesome brunch recipe!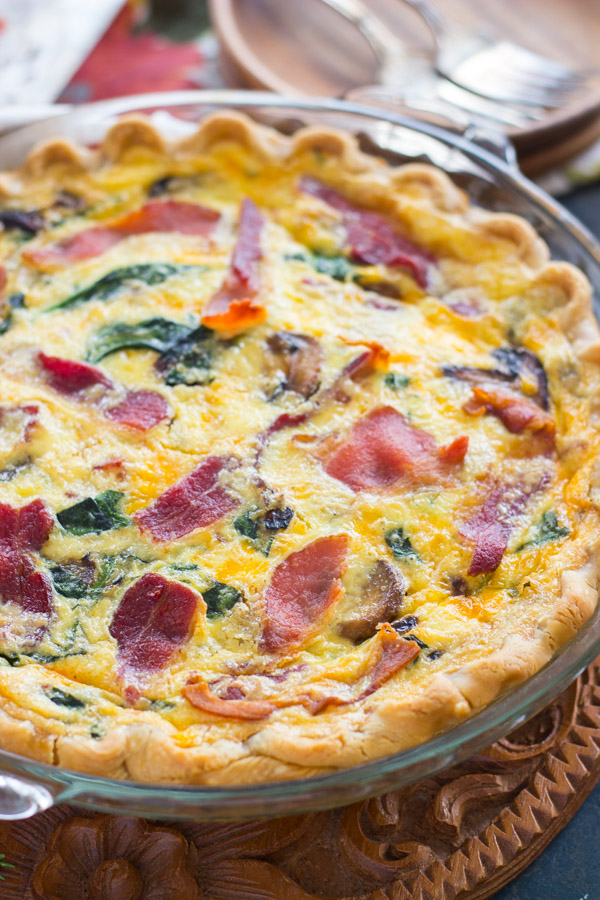 Get the RECIPE!
More from The Gold Lining Girl….
For more about our food category click HERE.
For more great recipes click HERE.
Do you have a recipe to share? We would love to hear from you. Submit your recipes HERE