One Pot Black Bean Enchilada Pasta
One Pot Black Bean Enchilada Pasta is an easy vegetarian one dish recipe you can make for lunch or dinner. My kids love it, so I'm sure your family will be all over it, too! It's ready in under 30 minutes and full of healthy ingredients.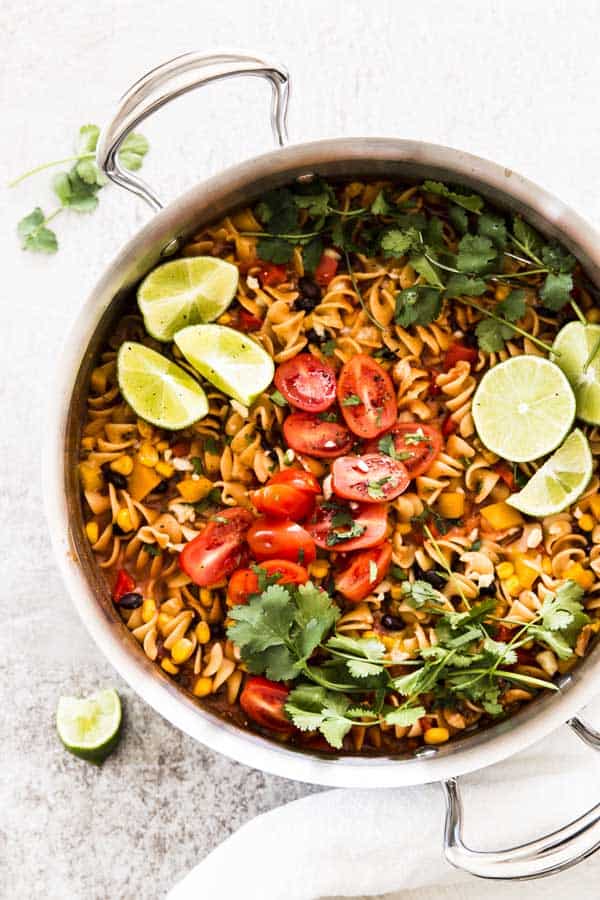 I've been making a lot of pasta with chicken, so I wanted to switch things up a bit here. This is an easy dinner recipe that's vegetarian and absolutely budget-friendly, though you can certainly add shredded chicken if you feel like it.
Fun fact: I have actually never made real enchiladas before. Should I? Is it worth it? I only know them from our fave Mexican restaurant, and I always feel like I'll be disappointed if I try to make them myself, since theirs are so good.
One Pot Enchilada Pasta is something I'm totally comfortable making though, because I do have a lot of cooking experience in the one pot pasta department. I'm just stating this again, in case it wasn't blatantly obvious already.
Now I usually write about a few things to pay attention to in my recipes, but honestly? This one is so dramatically easy, the only thing you'll have to watch is your kids trying to sneak beans and corn out of the boiling pot.
Click here to see the full One Pot Black Bean Enchilada Pasta recipe!
For more about our food category click HERE.
For more great recipes click HERE.
Do you have a recipe to share? We would love to hear from you. Submit your recipes HERE