Here is a smoked pulled pork recipe that is absolutely fantastic and very easy to do. Spending the day smoking meats is one of my favorite ways to spend time with family and friends. Plus, I got to use my new Traeger Grill for fathers day and this is honestly my first try at smoked pulled pork.
Need recipes to use up your pulled pork? We have many blogger made pulled pork recipes on our other blog, LiveDan330.com or, see what we did with the leftovers from this post:
Prepping Pork Shoulder for Smoked Pulled Pork
The best cut of meat to get is pork shoulder. It is not overly expensive and it is a nice size for a low and slow cook. In fact, when you're at the store, go ahead and pick up a six pack while you're at it. This will greatly improve your smoking experience.
Open your first beer, put the pork shoulder on a baking sheet and cover with your favorite dry rub. Don't have a favorite? I went ahead and put in some of my favorite products via links on Amazon so you don't even have to think about what to use. Just pick one and let me know about it in the comments.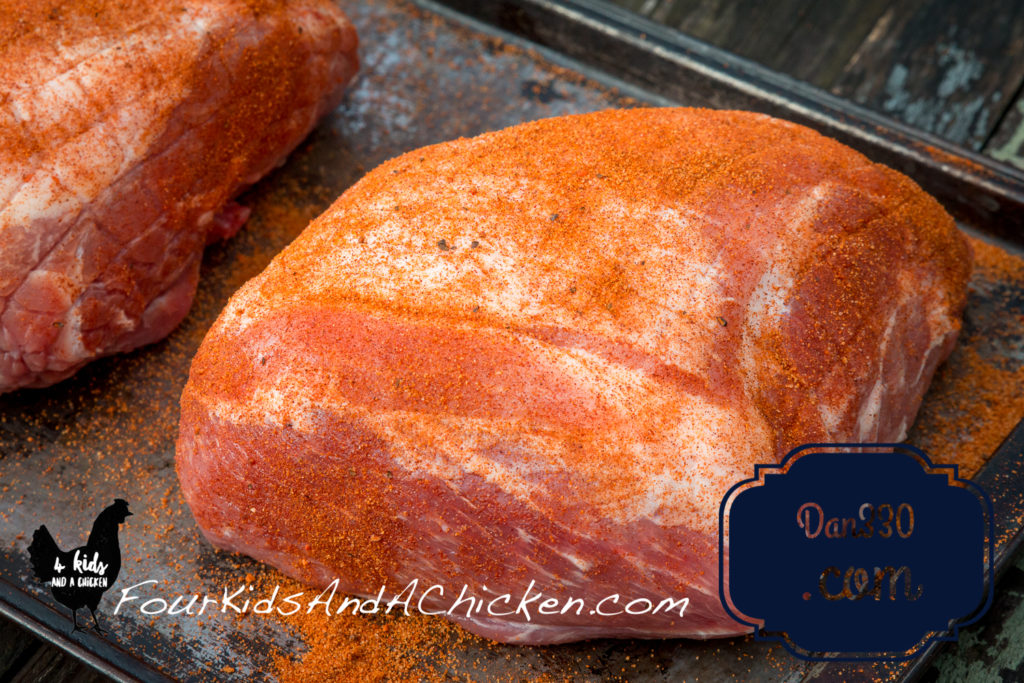 Smoking Pulled Pork
Smoking Pulled Pork
I used my new Traeger Grill, which burns pellets to add smoke and in addition maintains a constant temperature. A gas or charcoal grill would do the job too. But you would have to add wood chunks for the smoke flavor and watch the temperature for a whole day.
Preheat the grill to 225 and place the pork should directly on the grill surface. For the first three hours, baste it with apple cider to get a nice flavorful and smoky crust in the end. It's important to get that second beer down during this part.
After three hours of smoking the pork, put the pork shoulder on tinfoil. The tinfoil will collect any drippings and can be used to pour over the top of the finished smoked pulled pork.
Smoke the pork for five to seven more hours. Beers 3 and 4 should get you through the long stretch here. The pork shoulder will be smoked when the internal temperature reaches 190 degrees.
Pull it off the grill and let it rest for half an hour while the meat reabsorbs the juices trapped inside. It can help to cover it with tinfoil so it cooles slowly.
Pulling The Smoked Pulled Pork
It's time to have another beer. After a cool down period but while the pork is still hot, use forks to pull the pork apart. Look at how much smoke stained the pulled pork below in the first piece we pulled off! It looks amazing.
Keep pulling the pork by removing any fat and connective tissue that may be on the shoulder.
This recipe is a close adaptation of Traeger Grills' pulled pork recipe in their cookbook. It worked wonderfully well. The smoked pulled pork recipe was very easy yet made a fantastically juicy, textured, and flavorful smoked pulled pork. If you are feeling adventureous, try injecting apple sauce into the shoulder prior to smoking. This would add a fantastic flavor to the meal.
If you liked this recipe, you will probably also like our Grilled Pheasant or Jalapeno Poppers too. Thanks for reading and don't forget to share selfies of your pulled pork and tag us!