Cinnamon Pecan Streusel Pumpkin Bread
Cozy up for fall this year and celebrate the season with this easy cinnamon pecan streusel pumpkin bread recipe. You won't believe how good it makes your house smell!
A simple treat, totally from scratch, that will make you feel like Pioneer Woman herself 😉 Don't skip the classic fall quick bread this year – for Halloween, Thanksgiving or just because! Makes two loaves, so you'll have one as a cozy homemade gift idea.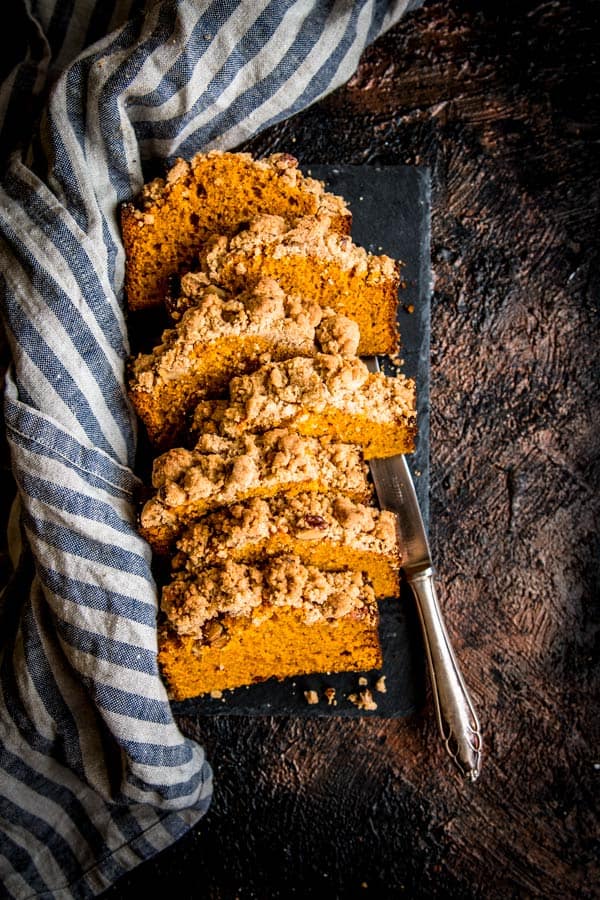 I have a thing for pumpkin goodies for cozy autumn weekend brunches.
And I know you do, too. Because the pumpkin waffles here in the Savory Nothings archives? They make the site explode each fall.
Just imagine a crisp morning, leaves golden and red in the trees, and you're serving up hot apple cider and a few warm slices of pumpkin bread.
Get out the flannel shirts and cozy blankets, I say!
I always feel like I celebrate the seasons way too little with my kids, so this year I'm making a point being intentional about it.
I'll focus on little things but I'll make sure to be crossing them off my autumn bucket list.
If you ever struggle with feeling guilty over not doing all the fun seasonal activities on Pinterest, take a step back this year and simplify your goals for autumn.
Pick one thing you'll have as a little "tradition" all season long and one small other thing you want to do every week. And yes, that can be "walk to the corner store and pick up a few colorful leaves on the way".
I bet your kids will be more excited about a special trip to the store than they will be about a stressed and guilt-ridden mom all season (or year?) long <3
For us, the cozy weekend mornings will be our little "tradition" and I'm sure this golden-orange bread will be the star of the show more than once.

Click here for my tips and the printable recipe.
For more about our food category click HERE.
For more great recipes click HERE.
Do you have a recipe to share? We would love to hear from you. Submit your recipes HERE